Spain's National Day celebrates Christopher Columbus' arrival to the Americas on 12 October 1492.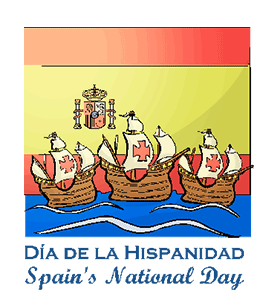 King Ferdinand of Spain sponsored the expedition west in the hopes of sailing to India. In August of 1492, Columbus set off into the Atlantic; two months later he would set foot on the Bahamas, establish settlements on Hispaniola Island and spread Christianity to the New World. Upon his return to Spain, he spoke of gold and riches and thus the Americas were opened up for European colonisation.
This day is a holiday in many countries, but it's known under other names. October 12 is widely celebrated throughout Americas as Columbus Day (in the USA) or Día de la Raza (in the countries of Latin America).
The Spaniards began celebrating National Day in 1935 as Dia de la Hispanidad, that emphasized their connection to international Hispanic community, the Hispanidad. The name of the holiday was changed in 1987 to Fiesta Nacional. The holiday became one of the two major Spanish national celebrations. The date of National Day had been moved for several times, until a compromise was achieved.
Between Franco's death in 1975 and 1981, October 12 celebrations remained very much attached to Francoist and imperialist values. King Juan Carlos's solemn speeches to mark the day repeatedly painted Spain as a civilising force in South America.
But by the 1980s, a redefinition of October 12 was needed. There was a push for it to be used to renovate the old idea of a "Spanish nation", despite the fact that the nation was comprised of a multitude of culturally differentiated populations, blended uncomfortably into the new democratic consensus.
The different historical nations within Spain (Galicia, the Basque Country and Catalonia) had, by 1981, declared their own respective national days. Catalonia even declared October 12 a normal working day in its territory. What's more, the Spanish Socialist Party (PSOE) wanted to celebrate Spain's national day on the December 6 instead of in October, as this was the day when the constitution of 1978 had been passed by referendum.
Since Oct 12th 2000 it has also been celebrated as a military day with parades of the armed forces.
Anti-colonial and anti-fascist protests are held every year in Bilbao and Barcelona, partly to counteract the rallies of Spanish ultra-right groups arriving from outside these cities on the national date, we hope it all passes off peacefully in Catalonia.
I imagine something will occur in Vera but it is not being publicised as far as i can see, but it's a holiday and the weather is still fantastic. Enjoy!