On September 17th, at 17:30 h., On La Plata Street, a Race of Ribbons for ADULTS will take place. 
Women interested in getting a ribbon to embroider or paint it and participate, can do so contacting through the Commission of Celebrations, from September 1st. More information at the Tourist Office. It will be a fun afternoon!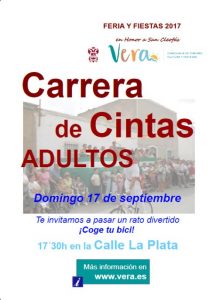 The carrera de cintas, or belt race, is a traditional sport often played during the feria patronal in Spain and Latin America. In the carrera de cintas, short belts with loops on one end are hung from a wire suspended between two posts. Contestants, who may be on either horses or bicycles, ride towards the wire and attempt to capture a belt by putting a peg through the loop. Traditionally, the belts are given to a group of women who then award prizes. The origin of the sport is not known.
I couldn't find a video from Vera but this gives an idea of the fun to expect.