Olive Harvest Time Fast Approaching.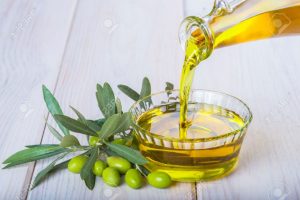 We normally pick our Olives in early November. It proves very popular with guests. Some like to join in for an hour or two, others like last year spent three whole days helping out and very grateful we were to. Whether guests help for 10 minutes or three days they all enjoy the trip to the press to see for themselves the process of producing Extra Virgin Olive Oil from fruit they have helped to pick. We have 55 trees and hope to get around a tonne of Olives but it varies from year to year. The yield also varies depending mainly on the water content, a lot of rain before harvest will result in around 1 litre of oil from 25KGs to 1 litre from around 20Kgs of Olives.
We pick the fruit over a three day period, it is important not to leave the Olives any longer than 72 hours before pressing as this increases the acidity of the oil. The fruit is gathered by combing the branches with small plastic rakes so they fall onto large nets spread under the trees, these are then emptied into our trailer for transport to the press.
At the press the Olives are cleaned and separated from any leaves and twigs and then the Olives are "Cold pressed" at around 35º to release the oil from the water. Depending on which press we use either we bottle it ourselves or they do it for us.
It's not all hard work though. We try to enjoy a nice lunch each day during the picking and when we go to the press we have a nice coffee and tostado while the pressing is taking place followed by a long lunch on the way home.
We still have some availability during the beginning of November if you would like to help while enjoying a break at Finca Arboleda.
Liquid Gold
Spain is the largest olive oil producer in the world, accounting for 44 per cent of the world's annual supply, and the country's love affair with the diminutive fruit shows no sign of decline despite new challenges.
WITH an estimated 340 million olive trees, Spain produces around 1.2 million tonnes of olive oil per year, enough to fill 400 Olympic swimming pools. About 45 per cent of the country's olive oil is produced in the Andalucian province of Jaen, where olive plantations occupy 590,000 hectares including 66 million trees. These account for a fifth of the global olive oil supply, with the region producing more than the entire country of Italy, the world's second-largest manufacturer. Olive trees are said to have been introduced to Spain by the Phoenicians almost 3,000 years ago, but it was the Romans who started large-scale production, with the Moors later introducing improved growing methods.
Fruity facts:
There are over 100 varieties of olive grown in Spain, but only 24 are regularly used to make oil.
Olive trees live on average for 3-600 years, with some of the world's oldest examples found in Spain. One individual in Tarragona is said to be over 2,000 years old.
Despite leading the global production ranking, Spain with 11.3 kilos is runner-up to Greece (12.8 kilos) in terms of per capita consumption.
The Spanish word for oil, aceite, is derived from the Arabic word al-zait, which literally translates as 'olive juice.'
There are four types of virgin olive oil, extra virgin, virgin, ordinary virgin and lampante, all of which differ in acidity with extra virgin, the highest grade, having the least.
I found this fun video on YouTube and have promised myself that I will make one this year.