Our List Of Top 10 Things To Do In Almeria
There are so many places and things to see and do when on vacation in our area. Here we made a list of 10 of our favourite things to see and do for both adults and children, while enjoying your vacation.
The list is in no particular order.
1.Cabo de Gata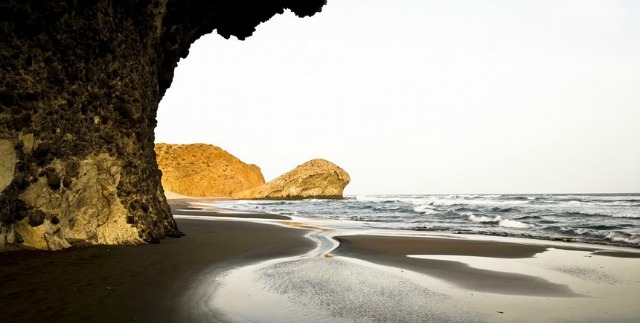 Almeria's natural park has some fantastic beaches. The Cabo de Gata is a unique destination on the Spanish coast one of  the few places remaining on Mediterranean coast  that is free of  high rise urbanism and mass tourism. Mojacar which has it's own charm, but is busy in August is left on a fantastic mountain hugging road towards Carboneras where the park starts. There are 40 designated dive sites around the Cabo de Gata Unesco marine reserve. Local dive companies offer boat trips, kayak rental, and guided kayak tours into navigable caves between the pinnacles at Arrecife de las Sirenas. If this is too energetic just park up and walk to fantastic secluded coves. Popular beaches such as Agua Amarga are great for a lunch after a morning of sun and sea.
2. Local Markets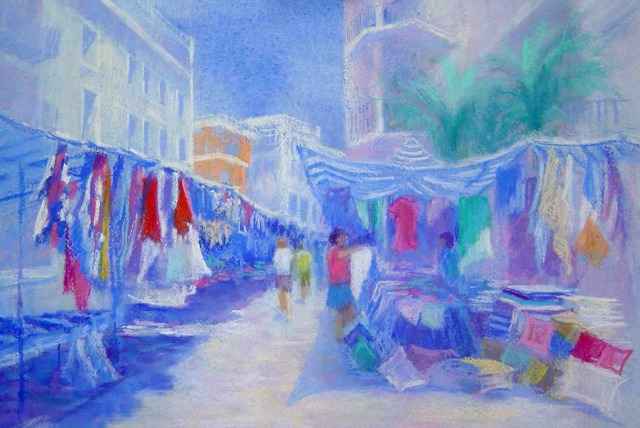 Every day there is a market somewhere in the area, everyone loves a market. The picture above is a painting done by a guest who stayed at Finca Arboleda about 10 years ago. Vera's market is one of the biggest and is on a Saturday from around 8am till 1.30pm the Chickens freshly cooked on the rotisserie are always a big hit. Villaricos, about 10 minutes away has a popular Sunday morning market and it's nice to have a drink by the harbour afterwards. Garrucha another seaside/harbour town, again about 10 minutes away has it's market on Fridays. In summer Garrucha also has a night market by the seafront.
3. Olive Picking and Lubrin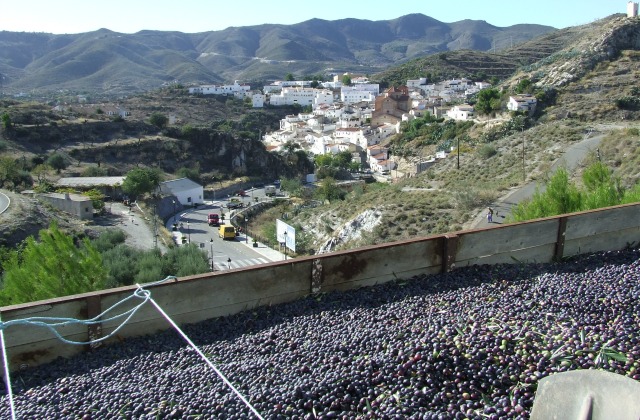 Finca Arboleda has 55 mature Olive trees. We pick our olives in early November and take them to Lubrin to be pressed into Extra Virgin Olive Oil. If you here at that time you are welcome to join in for a few hours or days if you prefer. At other times of the year you may try and buy the oil if you wish. The picking can take up to 3 days and we generally have between 500Kgs and a tonne. It takes between 4 and 5 Kg to produce a litre of oil, the yield depends on how ripe the fruit is and also the water content which will be higher if we have had rain before picking. We take the olives to Lubrin which is about 40 minutes away in the hills. Lubrin is a pretty little town and there is plenty of time to explore and take a coffee while the fruit is being pressed although it is also very interesting to take a few minutes to have a look around the press and sample the warm fresh oil. We then head back to the press to bottle our gorgeous oil and head home, taking in a long lunch on the way. Happy days!
4. Bedar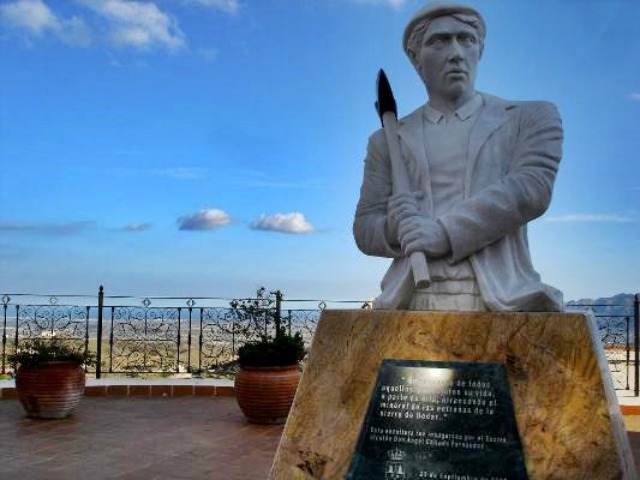 Bedar is situated in the foothills of the Sierra de los Filabres about 25 minutes from Finca Arboleda and offers fantastic views to the Mediterranean. The village was a centre for iron mining and a railway and overhead cable connected it to the port of Garrucha.  The railway has long since gone but the old route with tunnels makes for interesting rambling for which there are guided tours. The village itself is now thriving again after being deserted when the mines closed and is an interesting network of tiny roads, park up in the car park as you reach the village. Once you've finished exploring the reason we continue to revisit must be tried, slow cooked Lamb in the restaurant Miramar, it really is fantastic, try it with Patatas a lo Pobre (poor man's potatoes, sliced potatoes cooked in olive oil with onions and red and green peppers) a shoulder of Lamb and the potatoes costs around 30€ for 2 people.
5. Local Restaurants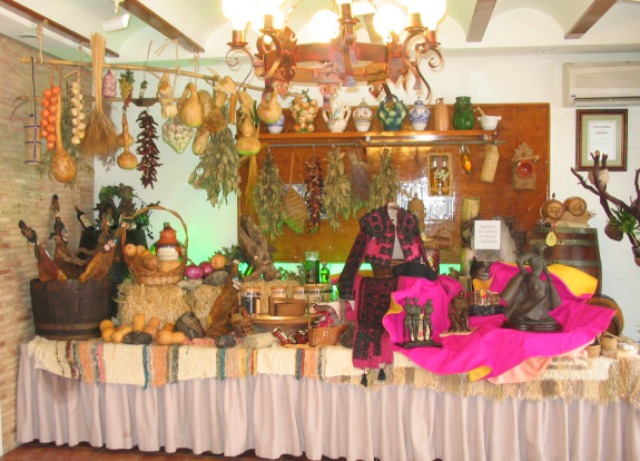 There is a wide range of cuisine to choose from in the area. Garrucha being a working fishing harbour is the place to visit for fish dishes including the local speciality "Garrucha Red Prawns" Mojacar has literally hundreds of places to eat, everything except McDonalds is on offer. If you are looking for a good value meal ask for "Menu del Dia"  you will be served a salad, bread, starter, main and dessert for between 10€ and 15 €, some even include a drink in the price, great value! Terraza Carmona in Vera is very popular with the local Spanish for business lunches and family celebrations, it's the place to be seen. We love to pop in for a drink and a spot of people watching and the excellent range of tapas. Juan Moreno is another high quality restaurant in Vera but it is more expensive. Other favourites are Bistro in Pueblo Laguna, Las Brisas chiringuito on the beach and Los Conteros  both in Villaricos and Bellavista in Mojacar. Our local guide page includes more concise reviews.
6. Wild West Theme Park In The Tabernas Desert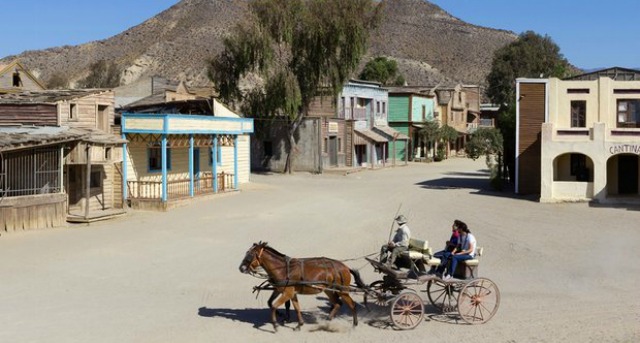 Fort Bravo and Oasys date back to the 1960's when the Western style towns were built as film sets. It is now a very popular tourist spot where you can explore the original settings of some classic movies. Apart from re-enactments of classic cowboy scenes of horse riding, bar room brawls and Can Can dancing girls there are bars, restaurants and a swimming pool. Horse and cart rides are available and you can also rent horses for guided tours so plenty to keep you entertained.
Sergio Leone's Spaghetti Western genre films were created in and around here as was Indiana Jones and the lost crusade, Lawrence of Arabia and more recently an episode of Doctor Who, some of Game of Thrones and Exodus were all filmed here.

Visit their web sites for more information Fort Bravo and Oasys
7. Mojacar Pueblo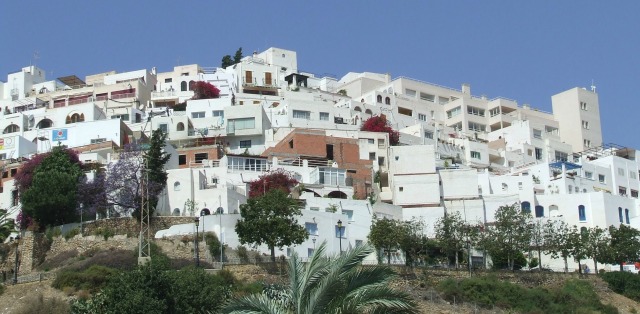 Perched on the hills above Mojacar beach the old village is a labyrinth of discovery. Whether you want to relax with a coffee and enjoy the fantastic views from the Grand Plaza or explore the long, multi-faceted history which stretches over 4000 years the village is a must visit when you are here. Populated by Phoenicians, Carthaginians, Romans, Greeks, and Moors. At it's peak the population touched 10,000 in the mid 18th century but for a number of reasons including many droughts and the lure of employment in neighbouring areas the population dwindled to less than a 1000 in the 1960's which prompted the Mayor to give away land to those who promised to build or renovate properties. This attracted many artists and musicians and this Bohemian atmosphere can still be felt today.
8. Vera Water Park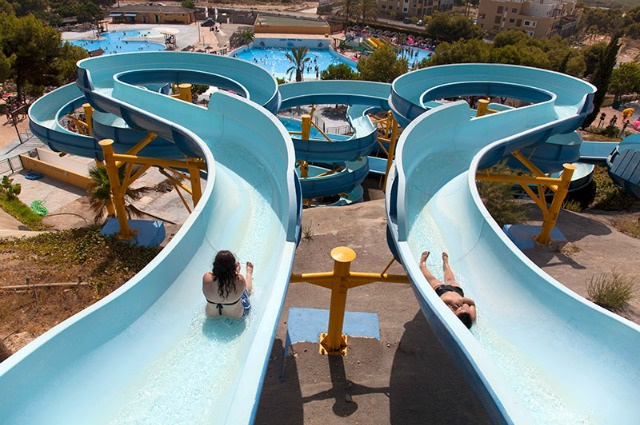 Normally open from May to September Vera water park is a great day out for children of all ages. With 6 slides, 3 pools, mini karting, minigolf, a children's play area, picnic places, bar and restaurant there is plenty to keep all the family busy all day. Check out their web site for their latest news and to see what is new this season.
9. Bird Watching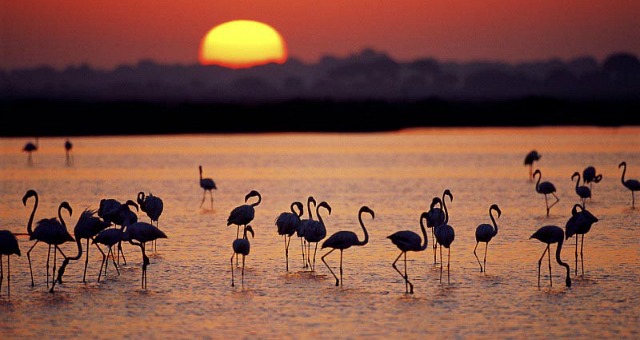 Bird watching is a favourite reason for visiting this region. Regular visitors to our garden are Hoopoes, the spectacular Bee Eaters and Stone Curlews. We have also seen many birds of prey including a Golden Eagle, a flock of Booted Eagles hovering overhead and once while picking Olives a group of at least 40 Vultures passed over us very low and no one thought to take a picture we were so mesmerised. You can usually see Flamingos on the wetland near the water park but a trip down to Salinas in the Cabo de Gata will certainly reward you with Flamingo and other wetland bird sightings including Heron, Grebes, Plovers and Avocets.
10. Local Arts and Crafts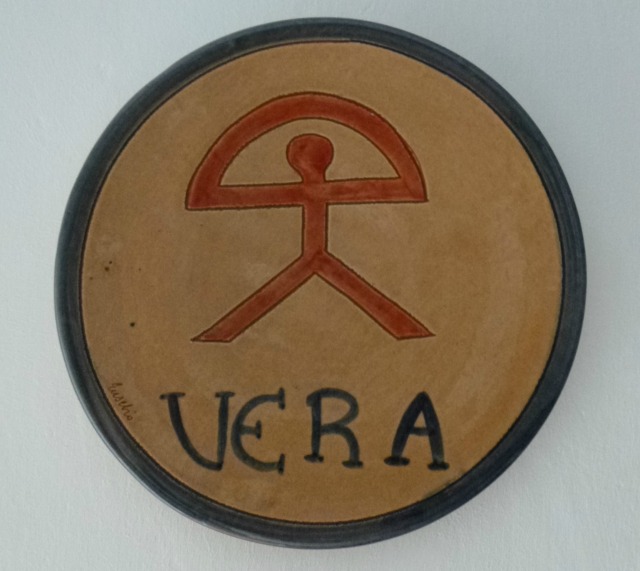 The area is very well known for amongst other things pottery and rug making. Macael is now the main provider of marble in Spain and has provided material for numerous buildings including famously the Alhambra. Pottery was first made when the Moors reigned and is still an important product in Nijar and Sorbas. Light carpets called Jarapas are made in Nijar. Our friends run a craft shop in Vera called El Zoco, pop in and say hello, Isabelle's family have lived in Vera for generations.