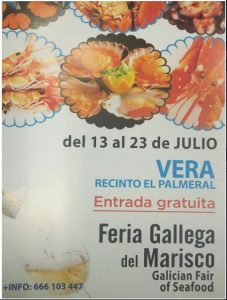 The GALLEGA DEL MARISCO FAIR is on in Vera.
From 13 to 23 July at the El Palmeral Exhibition Centre. Free admission. Open from 12 a.m. to 4:30 p.m. and from 9 p.m. to midnight. More information on tel. 666103447
If you love fresh seafood this is a must, we went a couple of years ago and it was tasty and interesting to try dishes that are not easily available locally, washed down with a glass (or  two) of Albariño.
Yummy, try it for yourself.