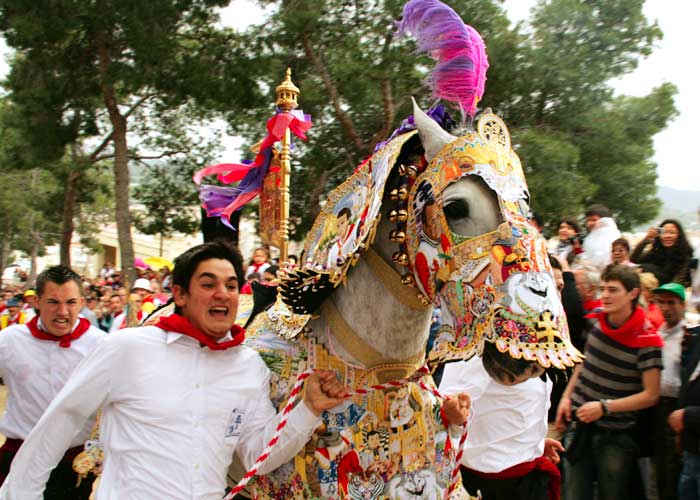 Tomorrow we are off to Caravaca de la Cruz in Murcia for the festival of the Wine Horses.
The beginning of the fiestas is on April 30th with the Noche de las Migas (Night of the Breadcrumbs). Streets are crowded with charanga bands, batucadas (music events consisting of a group of percussion instruments) and the colouring of the peñas migueras, groups of people meeting to cook this typical dish made of breadcrumbs, garlic, sardines and sausages, that later get together in Plaza del Hoyo to choose the best migas. On May 1st there are very popular events such as the Flower Offering, the Contest of Bareback Horses and the Exhibition of Capes, real pieces of art woven with silk and silver and gold threads that will decorate horses the following day.
In the morning of May 2nd Caravaca celebrates the Caballos del Vino (Wine Horses), the big day of the fiestas. The only requirement for not being out of tone is to wear a red shawl, a white shirt and to bear in mind that you're going to attend one of the most deafening fiestas of Spain.
Hundreds of thousands of people meet together for the legendary race. Everything happens in the blink of an eye. Four lads run next to each horse in an intense gallop that finishes at the open area of the Castle. This race recalls an incredible event that happened 700 years ago. According to legend, when the Muslims besieged the castle of the sacred city, a group of templars was able to break the siege, introduce saddlebags full of wine with the aid of their horses and prevent the population from dying because of the poisoned water that the enemies had used to contaminate tanks.
You can a video here.  https://youtu.be/v9XCSy9sOeg