Almeria Holiday Reviews
See what our guests have to say after staying at Finca Arboleda.

Or you can read the Trip Advisor pages.


A few sample reviews are here.
We would have no hesitation at all in recommending The Stables for a holiday.
The Stables Cottage, Finca Arboleda
We had a lovely 2 week stay in the cottage during June 2020, everything that was needed was supplied, the cottage was very clean with a private outdoor space and BBQ and the owners were friendly and welcoming. There is a relaxing pool with sun loungers and shade.
The area of Vera has a lot to see and do, the coast from Villaricos to San Juan de Los Terreros is particularly stunning with crystal blue water and beaches perfect for snorkelling. Mojcar Playa has an interesting shopping complex with reasonably priced, creative ladies and gents fashions and quirky gifts, added to that there are many many beach bars and restaurants in the area.
The Stables is a little isolated so a car is essential but you do have your own private parking area.
We would have no hesitation at all in recommending The Stables for a holiday.

Julie & Nick
https://www.visit-andalucia.com
We Just Had To Share This Fantastic Review
Difficult to know where to start, or to sound genuine on this review. Have just got back from Finca arboleda and it was just amazing. We stayed in "The Stables" which is equipped with just everything needed. Michael and Pirkko have paid great attention to every detail. Things like aircon AND ceiling fans (some places do one or the other) an instant hot water boiler for washing in (the water is filtered and lovely and soft). The kitchen has all the equipment and utensils you need including BBQ tongues and even heat resistant gloves.
The place is tranquil with birdsong and the occassional horse whinny. You sit on the terrace either in sun or under the canopy which provides shade (and a ceiling fan !) and relax looking at the olive grove and fig tree . We have done a few of these types of holiday in self catering villas/gites/finds and this one was easily the best. I didnt mention the pool did I ? Perfect…. 30 deg C constant and easy access via steps or slope entry at one end.
Michael and Pirkko … what can I say ? Lovely, friendly folk who are happy to stop and chat or will leave you completely alone if you so wish. But always there if you need help or advice. The consummate hosts in every way.
Could go on and on … it sounds to good to be true ? It isnt. If you are into relaxing holidays away from crowds, in your own space in peaceful surroundings, then on our experience I can only sing the praises of "The Stables" and Michael and Pirkko as hosts.
Peter and Rosy 27/7/2019
Just had to share this review that was left on our Google page.
What a wonderful place this is, I stayed for 2 weeks in the Orange Grove in march/April 2019. We wanted peace and quiet , privacy in a non touristy area , this was it. The Orange grove is a 1 bed cottage attached to the owners finca, it has all the facilities you need nearby and the cottage is very well equipped and spotlessly clean, it faces towards the coast and there are views of the orange grove, the pool, olive grove and then down to the sea in the distance. The property consists of an orange grove with a pool set in the middle The pool area is fabulous. There is also another 2 bed detached villa the Old Stables which is set in a very private location from the cottage and pool area you can only see the top of the roof of the villa. I have rated this 5 star because it is exactly what I was hoping for and more. You really need to hire a car to stay here which for us only cost £51 for the 2 weeks using Firefly (booked via Ryan Air) . In the area there are plenty of restaurants , bars, supermarkets and shops. The property is well placed for visiting this region of Andelusia and into Murcia. I couldn't fault anything, the owners have done a wonderful job of creating a peaceful quality setting. Glynn and Fran 9/4/2019
A recent review posted on Trip Advisor
Review of Finca Arboleda 2 Bedroom villa in idyllic setting
Lovely finca
Left on Mar 16, 2019 for a stay in Mar 2019
This is a lovely 2 bedroom finca. It is very well equipped and even has some English channels on the TV. The finca is surrounded by mature olive, orange and lemon trees. It has a lovely swimming pool which is shared by one other finca. Just a 25 minute walk to town and the supermarkets or a 30 minute drive to pretty villages or blue flag beaches. Our hosts were very kind and respected our privacy. We very much hope to return to Finca Arboleda in the near future.
This review is the subjective opinion of a TripAdvisor member and not of TripAdvisor LLC.
Relaxing in the peace and quiet, by the pool, was exactly what we both needed.
My Wife and I have just enjoyed a wonderful holiday at Finca Arboleda,in the Old Stables.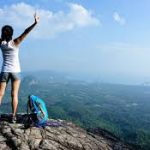 Our thanks to Pirkko & Mick for your wonderful hospitality. The villa was excellent, the pool delightful and the weather perfect. There is so much to do in the area, we will return, but the trip into the mountains, a day relaxing on the wonderful Playa Des Carolinas beach (recommended by Pirkko), Murcia Cathedral and Cartagena are highlights that will live long in the memory. But, relaxing in the peace and quiet, by the pool, was exactly what we both needed. See you again, all the best, Mike.

We quickly settled into a relaxed way of holiday life.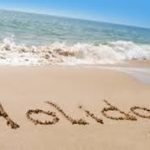 Whilst writing in the guest reviews book is good, most people nowadays prefer to read (and share) about other guests experiences on line.
We are just coming to the end of our two weeks here -our first experience – and will sadly be flying home tomorrow. When we first arrived we didn't immediately know what to make of living in a rural house away from the hustle and bustle of the touristy areas of Spain. We quickly settled into a relaxed way of holiday life.
You have everything you could wish for here, without venturing too far. Vera town is but 5 minutes drive away where there are some nice restaurants and many supermarkets. Iceland Overseas supplies just about any British food you could want, from Waitrose products and other brands. They even have their own meat counter with quality meat cut to order. Bistro gravy? Yes, that's there too. If your coming from the UK, you don't need to bring your own bacon or mustard, it's all here. Lidl and Supermercado complete the selection of products available.
There are also some scenic drives along the coast road up to Aquilas and in the other direction too taking you to some tiny, quiet coves all to yourself. The nearest beach is Puerto Rey which even at weekends is fairly empty and quiet.
Being a truly rural Spanish farming area, many locals eat late, so as we tend to eat early, we tended to have the local menu del dia at lunchtimes, with a snack in the evenings. I have to say that the owners, Michael and Pirrko, are always there if needed, and their fresh eggs from their 'girls' have orange yolks and are lovely. The pool area is quiet and the only sounds to be heard are the breezes rustling the olive, limes, lemons and fig trees as you kick back and enjoy the sunshine.
Enjoy, Meg & Derek (Cambridgeshire)
A wonderful stay. We would highly recommend.
We had a fabulous stay. The accommodation (Old Stables) was great.
Very well equipped, very clean and lots of attention to detail. We would highly recommend if you want peace, quiet and comfort. The area is also lovely with lots of places and beaches to explore. Eating fresh figs every morning and picking lemons for a gin and tonic in the evening… What more could you ask for. The owners were also great and very helpful. Posted on Owners Direct July 31st 2017 by Nicola D. #FincaArboleda #OldStables
La casa està genial.
  La casa està genial.
Un entorno muy tranquilo y una piscina con el agua buenísima,tanto que dan ganas de pasarte el día ahí metido. La casa también muy completa,tal y como se describe. Sin duda repetiré.  Posted on AirBnB July 2017 #OrangeGrove #FincaArboleda
Our Latest Review, Guests Love It Here!!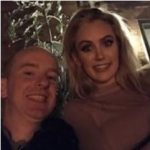 A secluded private piece of paradise. If you want peace and quiet and to be surrounded by nature this is the place to come. The hosts are warm, friendly and very accommodating. The accommodation was clean and tidy and very practical. Thank you for allowing us to stay at your wonderful Finca and we hope to see you again soon !
Posted by lee on https://www.airbnb.com/users/reviews
A perfect holiday…..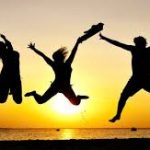 Great accommodation with nice areas to sit out and those little extras, like a cool box, beach sun umbrellas and towels plus essentials for the hot weather with ceiling fans and air conditioning. The pool area was beautiful and although we don't sit still for long we enjoyed a dip after a cycle into town and an early evening swim and glass of wine overlooking the 'campo'. Everything felt well cared for and loved and not a typical holiday rental. This was posted on Trip Advisor.
If I was lucky enough to own such a slice of paradise….
Finca Arboleda Orange Grove accommodation
This is a fantastic place owned by Mike & Pirrko who keep their accommodations and surroundings immaculately. The details and facitiies about the property are completely accurate. We were most impressed and will definitely be recommending to friends and family. The rooms were spotlessly clean, the pool area is ideallic. The owners are very helpful and polite yet offer you as much privacy as wish for. We visited Cabo de Gato, Velez Rubio and the Vera Playa beach areas plus we enjoyed some nightlife in the VP hotel street area. We enjoyed our stay in this region very much even though we were unlucky with the weather. We definitely brought our Irish rain with usunfortunately but this cannot be helped. Despite the few days of rain we had a great break away and will definitely be returning to the area and to the Finca Arboleda if they have availability when the time comes. If I was lucky enough to own such a slice of paradise, I'm not sure I could share it with others!! Regards Rodney & Carolyne, Cavan, Ireland *****
A lovely place to stay!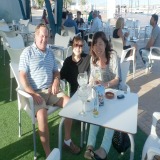 We really enjoyed staying at the old stables at Finca Arboleda, it was very relaxing. It is so quiet and peaceful, we enjoyed sitting outside having our happy hour looking at the sea view and a beautiful olive orchard in front of us, it is really an authentic Spanish country holiday. It is nicely private but the owners Mick and Pirkko are there if you need any help or advice and they are very welcoming and accommodating. The stables are very clean and well equipped with everything you need, and the bathroom has just been renovated and it is super! If you are looking for a holiday from the hustle and bustle of the cities, this is the place to be. Tom & Barry
I have stayed at Finca Arboleda 4 times with a 5th booked this year.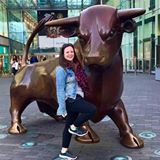 I have stayed at Finca Arboleda 4 times with a 5th booked this year. If you want peace and tranquillity in 'non touristy' Spain then this is the place. A car is a definite but means you can explore the wonderful spots nearby. Mick & Pirkko are perfect hosts and their accommodation is spotlessly clean and with everything you need. I would recommend staying here to anyone. Perfect for rest and relaxation. ♥              ***** Emma, Edinburgh.
Lived up to its promise

We spent 2 weeks in the orange grove apartment and enjoyed every minute. Waking to the scent of orange blossoms and picking your mandarins and lemons fresh from the tree was a delight as was the view of the lovely garden with sea and mountain views in the distance, and walking paths all around the country side. Having a bicycle available was a bonus. One does need a car , though many sights are nearby. Michael and Pirkko were wonderful hosts sharing their friends and stories willingly without imposing on one's privacy. The space itself was roomy and comfortable with everything provided one could need. Wish we could come here more often but it is a long journey from western Canada.
Wolf and Joanne, March 2017 From Canada!
I'll definitely be back for another few days of relaxation and sunshine!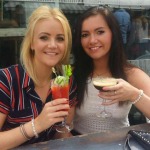 I stayed at Finca Arboleda for the third time in early March this year and had a wonderful stay. The accommodation, garden and pool were all maintained to a really high standard. It's nice to see how the place has developed over the years. Mick and Pirkko were perfect hosts, giving us great advice on what to do and where to go in the area. Stig, the dog is kind and gentle but will leave you alone if you're not a dog fan. I'll definitely be back for another few days of relaxation and sunshine! Sarah from facebook.
Peace of heaven.
If it is
peace and tranquillity you are looking for then this is the place to book, everything you need for a relaxing hassle free break is laid on, from the fully stocked kitchen, English channels on the TV, heating provided should the night air get a little chilly. and the pool should the days get a little hot. Micheal and Pirkko were a pleasure to deal with from the start and full of helpful local knowledge. Thank you Michael and Pirkko for sharing your little peace of heaven with us. we will be in touch again soon. Stephen, Cork, Ireland. January 2017.
We loved helping to pick the olives.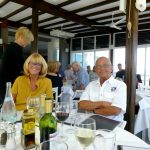 We stayed 6 weeks in the Old Stables and we truly loved it. It was very comfortable. Everything worked to our satisfaction. We enjoined using the nice pool almost every day. We had lots of fun helping out with the olive harvest. Most interesting to follow the process all the way from the picked olive to the pressed final product, i.e the bottled olive oil. We can really recommend it.
Lotte and Uno, Stockholm Sweden
#olivepicking
"fantastico"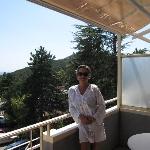 15 dias de paz y tranquilidad, un oasis, cerca de la playa de puerto rey, garrucha y mojacar, buen pescado en la zona y el mar fenomenal, la casa limpia, no faltaba de nada, lo unico los españoles no olvidaros de llevar una cafetera italiana, era lo unico que echamos en falta, la piscina casi privada, los dueños que vivian alli cerca de nosotros muy bien, simpaticos agradables y dispuestos a ofrecerte lo que necesitas, tienen aceite, mermeladas, huevos y fruta de los arboles recien cortada, en esta epoca higos, uvas, granadas y limones, bueno un sitio estupendo.
"A lovely oasis for business or pleasure"
We first stayed at Finca Arboleda in 2006 and have been coming back here ever since. As we now live in Madrid, on this occasion I wanted to see if I could use The Old Stables as a base during a week of business meetings in Murcia and Almeria. It proved to be the perfect base with every comfort, excellent wifi, TV etc and the usual warm welcome from Mike and Pirkko. Whether for business or pleasure I would recommend Finca Arboleda to anyone coming to this part of Spain which remains a still little known treasure with the most fabulous year round weather. Granada is just 2 hours away and I especially love the Cabo de Gata.
"Our second fabulous stay!"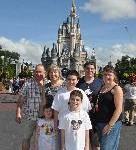 We stayed with Mick and Pirrko in September 2007 and again September 2008. We had the Old Stables and our friends stayed in the apartment. My wife and I revisited again on our own in 2008. Our stays here have been amongst our best holiday experiences. The properties were both spotlessly clean and were equipped to a very high standard with everything you could possibly need, even a cool box and ice packs for picnics and shopping!
The pool is lovely and is surrounded by olive, fig and fruit trees. It was great having a dip in the pool and then jumping out, picking a fig and relaxing on the pool-side loungers.
The surrounding area has a lot to offer, but to make the most of it you really need a car.
Mick and Pirrko were extremely friendly and welcoming and went out of their way to make sure you had an enjoyable stay. If only all property owners were like them!
We shall certainly be returning in the future and are looking forward to it!
This venue is a jewel in the Vera crown. I really shouldn't be telling you how wonderful this is. It should be my little secret!!!
We wish Mick and Pirrko (and Stig the dog), all the very best for the future. They deserve it! Chris & Cathie (Surbiton, Surrey
"Finca Arboleda, Lovely Accommodation, Great Pool"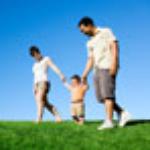 Finca Arboleda is a 10 minute drive from Vera, which has a well stocked Intermarché Supermarket that is open all week including Sunday. Make sure you print out the Google Map of how to get to Finca Arboleda, we tried to use TomTom with limited success, if we'd have stuck to the (very good) Google Map & Directions supplied, we'd have got there a bit quicker.
We stayed in "The Old Stables" for 7-nights at the beginning of September. The closest beach is "Playa de Puerto Rey", which has very nice sand & very warm water, but only limited shade. We went to the beach one morning; and another day we went to visit Mojácar, stocking up with drinking water at the Fuente (Spring).
Leaving the best bit to last (as is traditional), now on to the Pool. We had intended to do more sightseeing, but Costa Almeria in early September is pretty damn warm. We had already spent 6-nights elsewhere in Spain, and our oldest child was starting to swim, while our two younger children (twins) were also swimming comfortably but with armbands. The pool at Finca Arboleda is stunning, the accommodation was really nice, but what the children really remember about the holiday is the pool (and Stig!).
Thanks for a great holiday; Neil, Meryl & Family.