AQUAVERA, Water Park opens May 20th.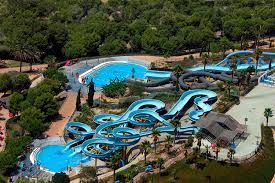 AquaVera offers safe fun for everyone, both young and old, perfect for a day of water and sun, with family or friends.  The Kamikaze is for the most intrepid and brave who wish to experience the sensation of a fall into the void or the Aquodrome, to make quick races with family and friends.  The star attraction is the Black Hole where you slide down in darkness. The fun Zig Zag slides, twists and turns on two slides that crisscross and descend quickly. If you want something gentler try the Aventura River, in company or alone, a great channel that descends gently in the sunlight. You can relax in the Lake pool or at the wave pool.
Aqualandia, is for the little ones where new for this year is tree adventure, an interesting tree house with walkways, Tibetan bridge, sliding bar, slides … an endless series of adventures under the shade of the pines. Aqua Vera has plenty of places to relax where you can enjoy your own food, but they also offer something for most tastes as well as drinks and of course Ice Creams, it's not a holiday without an Ice Cream!
Opening Saturday, May 20, 2017 from 11.00 till 18.00, 19.30 in July and August.
Tickets are from €15 to €23 depending on height, book on line for a 10% discount.
Visit their web site here http://www.aquavera.com/?lang=en
Tel 950 46 73 37   email   mk2@aquavera.com
It is located on the coast between Garrucha and Villaricos and it can be seen in the distance from our garden!